Our Services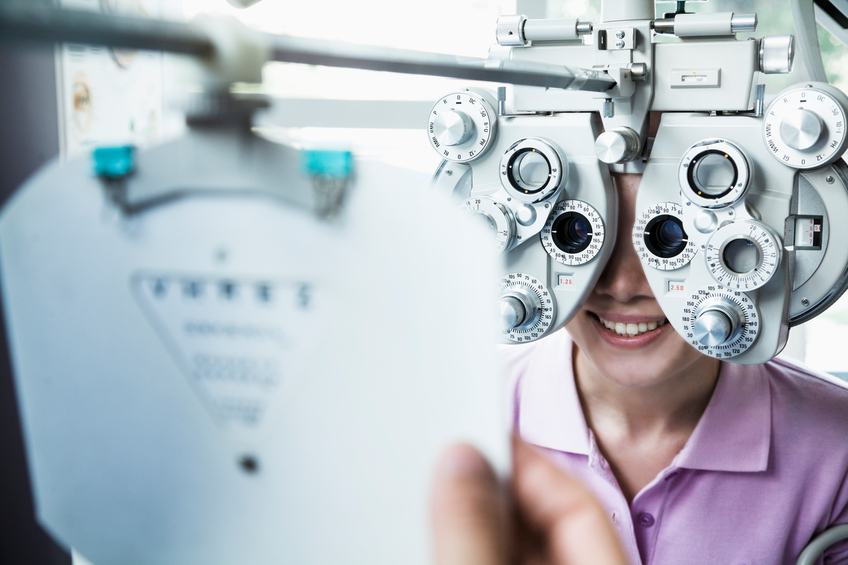 As a fully licensed and equipped optometric practice, Central Coast Optometric Center offers a complete range of eye care services to all our patients.
Whether the eye care issue involves correcting refractive errors with eyeglasses or contact lenses, or helping a student find amazing frames, or diagnosing/treating eye conditions and diseases, our experienced team will identify and implement the best eye care solutions for you.
Eye Health Evaluation
With our years of experience in diagnosing and treating typical vision disorders such as nearsightedness, farsightedness, amblyopia, presbyopia, cataracts, macular degeneration and diabetic retinopathy, Nadine L. Norris, O.D. and Greg Kaiser, O.D. and their team are equipped to provide appropriate therapeutic medical eye care.
At the same time, the Central Coast Optometric Center team offers a wide array of high quality eye care products at reasonable prices. Our patients never pay too much for the best quality in eyeglasses, contact lenses, sunglasses, progressive and bifocal lenses, and outstanding service.
Treatment of Eye Disease
If you are diagnosed with an eye disease, you want the best treatment available to get your eyes healthy again. At Central Coast Optometric Center, we stay current with best treatment practices. Based on your diagnosis, we may recommend a wide variety of approaches, including improved nutrition, prescription medicines, therapy and vision exercises, or medical procedures.
Good Eyecare Begins With A Yearly Eye Exam!
Although many do not realize it, the best way to protect your vision is with a yearly eye checkup. Even a basic eye exam can instantly detect many health-threatening conditions, such as tumors, vascular irregularities, and diabetes-related injury to the retina. At Central Coast Optometric Center, that basic checkup is brief and painless.
Color Fundus Photography
Staying at the forefront of the optometric field is about providing the absolute best tools to help our patients live their best lives. At Central Coast Optometric Center, our experienced eye care professionals blend proven techniques with the latest technology to deliver affordable care for something undeniably priceless: your vision health.
One of these important tools is fundus photography. A fundus camera is a specialized low power microscope with an attached camera designed to photograph the interior surface of the eye, including the retina, retinal vasculature, optic disc, macula, and posterior pole (i.e. the fundus).
Our optometrists use fundus photography to help get a deeper understanding of your ocular health. In addition to helping detect diseases early, retinal images provide a permanent and historical record of changes in your eye.
What are the benefits of Fundus Photography?
This picture allows your optometrist to see your eyes more closely and precisely. With the images produced, your doctor will be able to see early signs of eye diseases that they were unable to detect before, such as diabetic retinopathy, age related macular degeneration, macular edema and retinal detachment. Diagnosing conditions before they progress is important to avoid permanent side effects.
The fundus photography test is fast and painless, and results are seen almost immediately.
Fundus photos can be compared side-by-side over time to monitor your eye health and detect subtle changes. They allow your doctor to explain treatment more thoroughly as you can review the images together, which ensures a certain level of precision to your routine eye exam.
Who Needs Fundus Photography?
We strongly recommend that all of our patients receive a photograph of their eyes once per year. It is especially important for people who have:
Headaches
Spots or flashing lights
Family or personal history of high blood pressure
Circulatory problems
Family or personal history of diabetes
A strong eyeglass prescription
Family or personal history of glaucoma
History of choroidal nevus (freckle)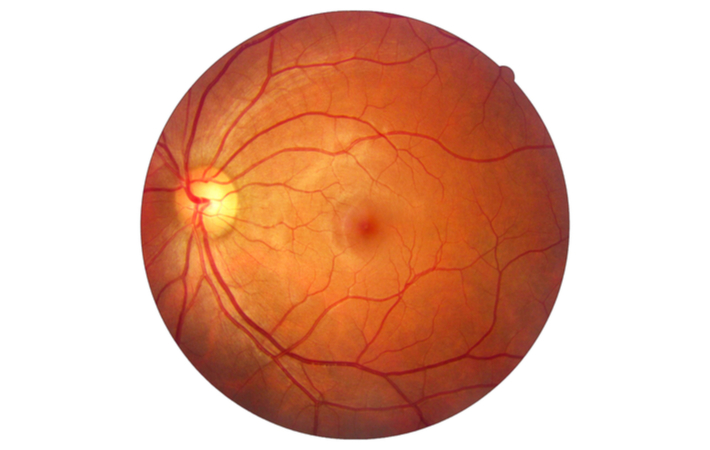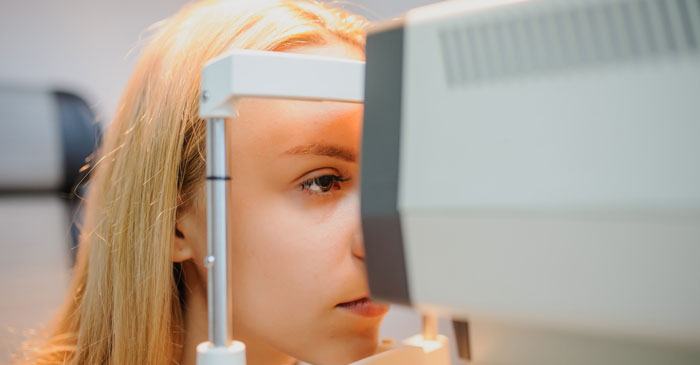 Optikam
At Central Coast Optometric Center, our opticians use Optikam digital imaging to take accurate measurements in one picture to give you the best vision from your glasses!
Opticians always strive to provide the highest level of customer service to their patients. Even so, the devices used to measure frame, lens, and patient parameters as well as those utilized for demonstrations and patient education often hinder their effectiveness. The Optikam software not only enhances an optician's abilities, it extends them, greatly reducing the risk of errors and giving you a better quality pair of eyeglasses.
Optikam is also useful in helping you decide which eyeglass frames you want to order. We can show you a comparison of up to 4 images of you wearing different frames at the same time to help simplify your selections. With Optikam, you can preview the finished glasses BEFORE ordering them!
In addition, Optikam will also be able to help educate you in selecting proper lens options such as polarization, transitions, and anti-reflective lenses. Through our software we will be able to show you why it is beneficial to have these lens options.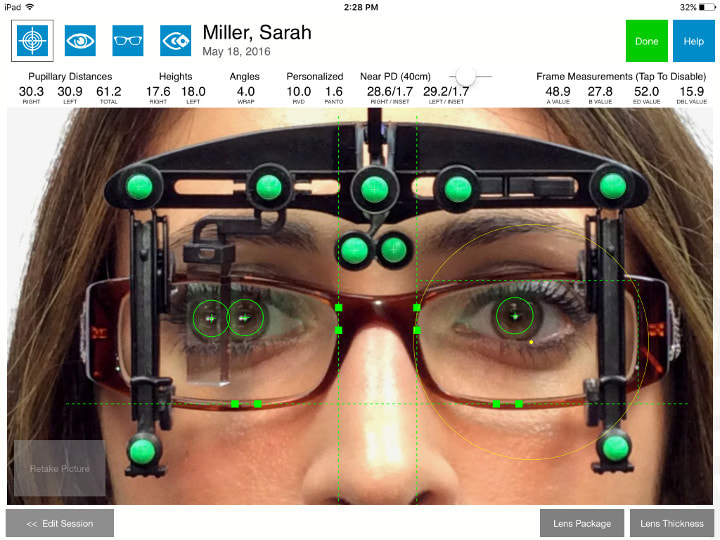 Medical Optometry
Optometry is so much more than just a glasses or contact lens prescription. Our optometrists at Central Coast Optometric Center are essentially primary care providers for your eyes. We will thoroughly evaluate your vision and your eye health ensuring that you will have the best vision possible throughout your lifetime.
Conditions we check for at every exam include cataracts, glaucoma , macular degeneration, retinal health, dry eye, and allergies. We also treat eye infections and remove foreign bodies.
We regularly consult with your primary care physician and/or specialists regarding systemic health issues that have ocular manifestations.
LASIK & Cataract Co-management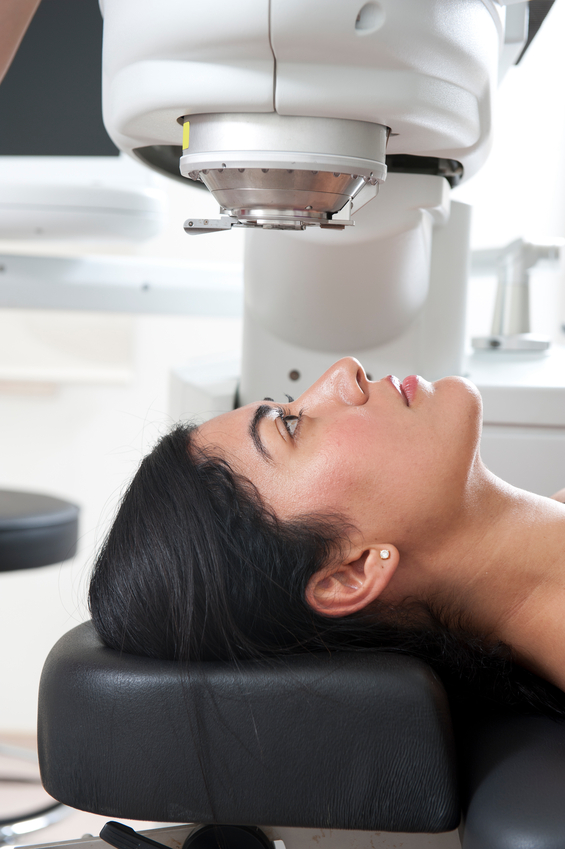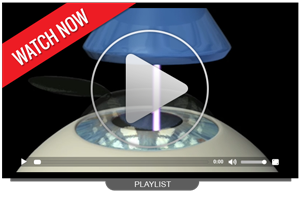 LASIK, a form of refractive surgery, is an popular option for vision correction, often eliminating the need to wear glasses or contact lenses. Simply put, LASIK reshapes the cornea with a laser.
Other surgical alternatives have become available. Among these is a technique called phakic IOL implantation which involves implanting a lens behind the cornea, but in front of the iris. With this new option, many of those who were too highly nearsighted for LASIK are now candidates for refractive surgery.
If you are interested in refractive surgery, please let us know. Refractive surgery is not to be taken lightly. Detailed testing is necessary to determine whether or not you are a good candidate for the surgery. If testing shows you to be a good candidate, we can help you choose the refractive surgeon who is most appropriate for your case. In addition, we provide post-operative care for refractive surgery.